Benefits of engaging a local Dutch Representative in the Netherlands
If you are not Dutch, starting a business in the Netherlands can be intimidating. 
A lot of information is only available in Dutch, which you don't necessarily speak at all, much less fluently.
 You have to navigate different sets of rules and cultural  differences. You have to find local service providers you can trust and afford. 
The list goes on and on. Fortunately, there are local dutch representative who can help you sort it all out.
Read on for three reasons why working with a local representative can be of tremendous value when you are starting a business in the Netherlands as a foreigner.
A Local representative can help verifying information
A local representative can verify information you find when doing research or receive from (potential) service providers, for example when:
You search online for a service provider to set up a Dutch company, but there is a lot of conflicting information.
You are overwhelmed by information from lawyers and other service providers you found on the internet.
You want to do your due diligence regarding a service provider you are considering working with.
You are confused about whether you need a local director to set up a Dutch B.V.
You are told that you need to work with a certified Dutch accountant (an Accountant-Administratieconsulent or Register Accountant), but your business is small, so you are not sure if this is true.
You are asked to pay an extra fee on top of the incorporation package you already paid for, but you are not sure whether this is correct.
Dutch local representative can provide useful local contacts
They can provide you with useful contacts to help you find your way around in the Netherlands.
Through their knowledge of the Dutch business landscape and their own professional network, a local representative can help you connect with local experts when:
You need help finding a Dutch address at which to register your Dutch company to receive your clients or just to receive mail.
You want to do your own bookkeeping and need help finding accounting software that complies with the Dutch accounting and filing system.
You want to import goods from outside the EU and need to find logistics companies located in Holland to help you do this.
You need help finding a Dutch address at which to register your Dutch company to receive your clients or just to receive mail.
You need help listing your product(s) on a Dutch ecommerce platform.
You plan to send your own employees to Holland to work for your Dutch company and you want to know how to do this.
They can assist you with daily business
Once your company is set up, you can still run into challenges in the daily operation of your business.
There are many situations where a local representative can offer support, for example when:
You have set up a Dutch B.V. but want to operate it from your home country.
You are trying to open a business bank account, only to find that not all banks accept foreigners/non-residents as clients, and want to know which banks will accept you.
You want to apply for a business credit card to pay for your business expenses and want to know the procedure and requirements.
Your bookkeeper asks you to provide invoices for submitting your VAT return, but you don't know how to create or send an invoice which is required for VAT purpose to your customers.
You receive a letter from the Dutch tax authority (the Belastingdienst) that you are entitled to a VAT refund, but you don't know how to notify them of your business bank account details so they can send you the refund.
You want to transfer the shares of your B.V. to another foreign company but are having problems understanding what the Dutch notary needs from you to do the transfer.
You need to change an address or appoint or remove a director, but you think the cost of a Dutch lawyer is too expensive because they charge on an hourly rate.
You are asked by Dutch Chamber of Commerce (the Kamer voor Koophandel, or KVK) to provide a UBO register, but you are not sure what to do. 
Engaging a local dutch representative - save you time and money
You might also be interested in these Services
We can provide you free 30 minutes advice to help get you started with your business needs.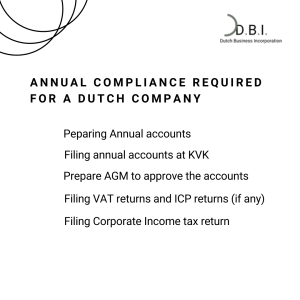 What are the 3 annual filing requirements for a Dutch B.V.? Filing Annual Accounts: Dutch BV Taxation Registering your business in the Netherlands isn't the
Read More »
reliable company secretary located in Netherlands help non-residents with appointment and resignation of director of dutch company and more
Read More »
Memorandum and Article of Association of a Dutch limited Liabilities company: what's included The equivalent of an article and memorandum of association of a Dutch
Read More »